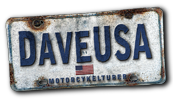 13 – 23 October 2020
Out/in New Orleans, LA.
11 days total
7 days in the saddle
9 nights
Louisiana, Alabama, Florida, Biketoberfest, MC-culture folkfest, New Orleans, The French Quarter, The Gulf, sun, heat och fun!
The 15 October 2020 marks the start of "little" Daytona Bike Week, BIKETOBERFEST, in Daytona Beach, Florida. Magic.
It'll be you, me and handful of fun-loving bikers together with that wonderful Swedish Harley-Davidson magazine Big Twin, who'll split east along the coast from New Orleans to Florida and Biketoberfest. Two nites in the epicenter of any and everything concerning motorcycle-culture. Loads of folks, bikes, musik and fun in the sun!
Back west inland to New Orleans for two crazy nights on The Quarter. Ooo la-la!
Your mind's already made up! You're coming along! 🙂
Price etc. pending
Call or mail me with questions anytime!
Look for more info on this and all our great rides in Big Twin magazine or www.bigtwin.se