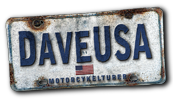 DaveUSA is proud to have been given the chance to lead a proper gang och true bikers, my buddies in Arrowstreet 8 MC, Vasteras, Sweden, on an incomparable, memorable and long push through The Southwest USA.
I thank them for their vote of confidence.
Gonna be a HOOT! Can't wait!