Black Hills Bop! 31 Augusti – 10 September NEW TOUR!
Brand New!!! A DaveUSA tour in the wonderful The Black Hills, South Dakota and Wyoming.
A bone-fide wild west motorcycle adventure! We discover the fabulous and stunningly beautiful Black Hills of South Dakota and Wyoming's magnificent natural landscapes. A lot of cowboys n 'indians, bison oxen, mountains, forests, steppe, western and Native American cultures and magnificent, breathtaking views.
Out/In Sturgis, South Dakota
Total 11 days
9 nights
8  days in the saddle
Base camp Custer, South Dakota / 3 nights
ca. 1200 miles in total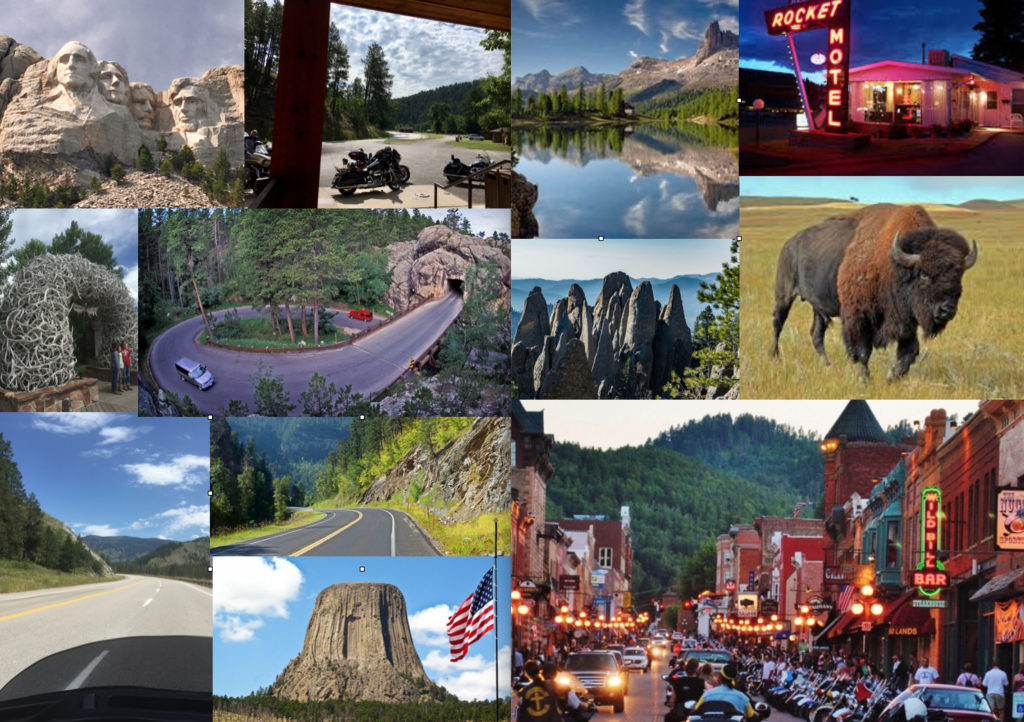 ROUTE (preliminary.) Sturgis SD, Sheridan WY, Cody WY, Riverton WY, Casper WY, Custer, Custer, Custer SD, Sturgis SD, Fly Home, Land ARN.
We begin in famous Sturgis, South Dakota where we pick up our Indians and split the next morning, way out west through beautiful, open forest landscapes and foothills, far away from civilisation. Me like!
We continue into the state of Wyoming and glide gently upwards until the eerie Devils Tower rises in front of us like a flat-headed giant from outer space. A stop here, for sure. A sacred shrine to alla native Americans.
Onward west through empty Big Sky country to Wyoming's Emerald City: Sheridan, the gateway to the wonderful Bighorn National Forest.
Now, Bighorn's beautiful world with curvy mountain roads and grasslands to a lazy, authentic cowboy town, Cody, Wyoming, where we stay at the prestigious Irma Hotel complete with prominent ghosts and a shoot 'em up saloon. With a little luck there's a rodeo in town. Don't get more cowboy than Cody.
We leave Cody and head south towards Wind River Indian Reservation staying in Riverton. "In the middle of nowhere?" Oh, hell yea, but Riverton is a cozy little western village where we of course stay centrally at The Tomahawk Lodge. There are plenty of bars, taverns and honky-tonks nearby.
From Riverton we head east and the long, beautiful, winding road back to The Black Hills. We stop halfway in Casper, Wyoming, famous for,.? Nothing, but maybe we can head over to the local indoor shooting range and shoot stuff!
From Casper, there are over 180 miles of dream-roads to our base camp for the next three nights, namely Custer, South Dakota, the little cowboy village nestled among the beautiful mountains adjacent to the Custer National Park. We're staying at a groovy little biker motel called The Rocket Motel where the Don and Brenda take good care of us.
Once in Custer, we start our 3-day stay in The Black Hills!  We'll take long, wonderful day trips every day and visit this mythical and strikingly beautiful area!
Mount Rushmore, Crazy Horse Monument, Deadwood, Spearfish Canyon, Needles and The Badlands. We'll ride hilly, steep and curvy mountain roads such as Needles Highway and Iron Mountain Road. We'll take The Wildlife Loop among the bison oxen and wild mules, getting back home to Custer every late afternoon just in time for Happy Hour at one of the many bars and taverns in this little biker-cowboy village.
We strike our 3-day base camp and head back to Sturgis and surrender our Indians. Next day, home to Sweden with memories for life!
Your total cost for this trip, excluding food and gas: 3990 Euros
Passenger? Call me for a chat.
Payment i three parts
1. Flights. I coordinate all airline-tickets which you'll pay for separately.
2. Hotels. I coordinate all hotels which you'll pay for separately during the trip.
3. All receive a DaveUSA invoice covering your choice* of a new/nearly new Harley-Davidson motorcycle including insurance, transfer and guide (Dave)
Total sum of the above 3990 Euros
*Bikes are allotted by availability.
Gas, food, drink paid for separately.
All prices and trip-information subject to change.
Don't hesitate! Contact me now!
Let's RIDE!