Road Captain USA Central, Susan Cobb

Hey there fellow riders!  My name is Susan Cobb and I am new to Dave's team.  My husband, Jim,  and I had the opportunity to meet Dave and guide him and his friends through our area in West Central Illinois on a couple of his rides a few years ago.  What a great experience that was to add to my list of riding memories.  And those memories and miles have been adding up over the last 20 years.  My first bike was a 1984 1000XL Sportster – long live the Iron Head!  I rode that Sporty for 13 years until I partnered up with my current love, a 2002 Dyna Wide Glide CVO.  Who knows what will come next?
In 2013 and 2014 I had the opportunity to serve on the committee for the Illinois State HOG Rally and help plan those awesome events.  I have also served in the local HOG chapter as an officer.  I have ridden to the beautiful western state of Montana and south to Texas – and everything in between.  But there is so much more to see so let's do it!
Helping others enjoy the ride is what I love to do and riding with people who understand that passion and speak the biker language is where I feel most comfortable.  It doesn't matter if you are part of an organization, or what you ride, just as long as you ride – but Harley-Davidson is the best in my opinion! There is nothing better than a beautiful day of riding with friends, old or new, then ending the day with laughter and relaxtion.  I look forward to riding with you and building new friendships.  Yep, livin' to Ride!
Road Captain USA Central,  Jim "Poppie" Wolf

Hello riding enthusiasts!  My name is Jim "Poppie" Wolf.  I started riding 15 years ago.  In that 15 years I have put many miles under my seat, absorbing the sights and sounds of the open road.  When Dave contacted our local HOG Chapter a few years ago asking for a guide through our area, I jumped at the chance as I love to meet and ride with new people. Travelling is in my blood, as I travel as part of my profession, however my first choice is always on two wheels.
Part of what I love about riding is experiencing new roads with other people.  The last couple of years I was on the Illinois State HOG Rally committee.  In 2013 I was the Rally Site Coordinator in charge of coordinating the logistics of the event. In 2014 I served as the Rally Coordinator leading the committee. I have also served in our local HOG chapter as Road Captain and Director.  The camaraderie we share as riders is something that cannot be substituted – nothing less will do.  The best kind of day is to put some miles behind you with friends! I hope to see you on the road very soon.
Road Captain, Dave Nerge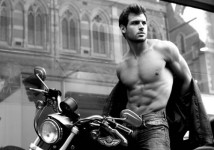 Hi, I'm Dave and I've been riding hard, without a shirt, for 87 years. I do 4300 sit-ups a day,..a cat couldn't scratch my stomach. I'm often referred to as "dreamy"
I like various, interesting things. There is an evil clown living in my closet.